Prompt, courteous, accurate piano tuning, repair and rebuilding services in Southeast Michigan since 1977.
My primary service area is Livingston County and Ann Arbor. I am happy to work with you if you live more distant, but please be aware that there is a surcharge for any trip longer than 20 miles from my home in Hamburg Township, south of Brighton.
Now fully vaccinated against covid-19.

As always, I take seriously the danger of spreading potentially harmful germs (all types) and will continue with the standard practices I have followed for years, starting with washing hands with soap thoroughly between customer homes. In addition, to reduce the chance of spreading anything through surface contact, I am utilizing additional hand sanitizer. I am happy to wear a mask while in your home on request. For updates please visit the facebook page: "Piano Tuning and Repair by Jim Selleck"
Standard rates* for Piano Services**
• Normal Tuning (if piano has been serviced within the past 12 months)
$ 150
• Pitch Raise Tuning (if piano is 1/4 tone flat)
$ 250
• Extensive Pitch Raise Tuning (if piano is 1/2 tone flat or more)
$ 300
• Surcharge for tuning old style air driven Player Pianos
$ 75
• Evaluation of a piano you are considering to purchase
to determine cost of tuning and needed repairs
$ 125
• Repair estimate for insurance claim
$ 125
• Minimum service call charge (in uncommon cases where piano is not serviceable)
$ 125
• Repairs and Action Regulation are quoted on site according to the amount of work required and cost of any parts needed
First-time callers are often concerned about the age of their piano; whether it is still serviceable after a certain number of years. I tell them 'pianos age just like people.' A fifteen year old piano is still a kid and should be in nearly perfect condition. A forty-five year old piano is in the prime of life and I would expect few (if any) issues. I don't expect to see serious problems requiring a lot of repairs until a piano is more than age 60. Nevertheless, just as with a human body, if it is abused or neglected, problems can and will occur earlier and with greater severity.
Payment terms: Checks are gratefully accepted. Cash is preferred.
Billing available to institutional clients under contract only.
Visit our page on Facebook
Jim Selleck's clients include regular folks, professional musicians, recording studios, and a host of organizations including:
Plymouth/Canton Schools
Troy Schools
Southfield Schools
Farmington Schools
Bloomfield Hills Schools
Wayne/Westland Schools
Dearborn Schools
Detroit Country Day School
Warren Schools
Lincoln Park Schools
Michigan Opera Theatre
Detroit's Historic Fisher Theatre
Henry Ford Museum/Greenfield Village
Henry Ford Community College
Whitmore Lake Schools
Wayne State University
---
* Standard rate applies within 20 driving miles of Brighton, Michigan OR in West Detroit and suburbs (including Plymouth, Canton, Livonia, Redford and Northville, plus northern communities near the expressways like Farmington and Southfield.). Time or mileage charges may apply for more distant locations. Sorry, we are no longer able to offer free estimates.

** Standard rate applies to all modern design vertical (upright) and grand 88-key acoustic pianos. Unusual instruments such as antique square grands and some older (19th century) English models may also cost more to service because of special tools and other extraordinary effort required.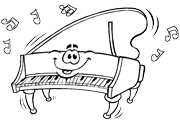 Happy customer? Please consider leaving a Google Review.